September 30, 2022 – Round Rock, Texas:
Texas A&M Health Science Center's School of Nursing is collaborating with Redmer Productions to build a series of Malignant Pleural Effusion (lung cancer) clinical simulations that will be launched on RedmerU.com. The first gamulation which will be for nursing students, will launch in the Fall semester of 2023. It will be followed by a gamulation for respiratory therapy students in the Spring semester of 2024. A third gamulation will launch in the Fall of 2024 that will feature group play for both nursing students and respiratory therapy students to co-op through the clinical simulation.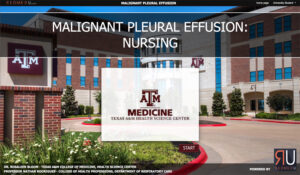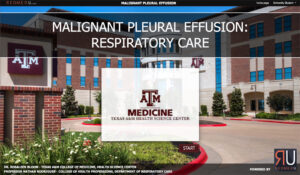 Clinical Assistant Professor Rosaleen Bloom, PhD, APRN, ACNS-BC, AOCNS is leading the narrative development and the clinical case studies with support from co-instructor Clinical Assistant Professor Darla Gruben, MSN, RN, CHSE, CNE. The respiratory care narrative is being developed by Assistant Professor Nathan Rodrigues, MS, RRT, RRT-NPS, RRT-SDS, EMT at Texas State University's College of Health Professions Department of Respiratory Care.