March 3, 2023 – San Marcos, Texas:
Texas State University presented the results of a two-year study on the effectiveness of RedmerU.com's AIDET Patient Communication gamulation at its Health Scholar Showcase held at the Translational Health Research Center, The product was proven to be effective in all measures that were analyzed during the study including; Speaking, Explaining, Coaching, Approaching, Introducing, Gaining Trust, Showing Gratitude, Communicating by Name, Estimating Time of Therapy, Managing Refusals, Effectiveness Developing Clinical Skills and Effectiveness as a Teaching Modality.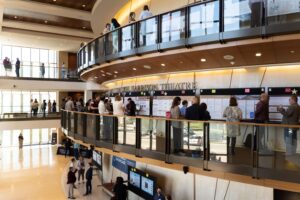 BACKGROUND
Gamification is the process of incorporating games or game-like elements to something to encourage participation and make something potentially tedious into a game. It is effective because it taps into the natural desire for competition and achievement. Teachers, executives, and more have used gamification to improve participation, productivity, outcomes, and make learning feel more like a game. Gamification can:
Improve memory retention
Engage users in an entertaining manner
Provide a source of motivation through competition
Provide an immersive, alternative experiential teaching method
Provide safe, simulated realistic environments and situations
Provide rapid, in-depth visible feedback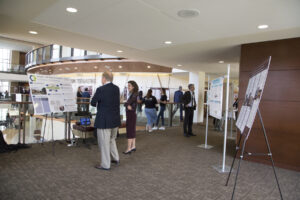 Gamulations are one method of implementing gamification. Gamulations are designed to integrate gamification principles with simulation. They offer a combination of the fun elements of games combined with the reality of real-world situations and challenges.
Effective patient communication is essential for all healthcare providers, and can:
Improve transparency
Decrease patient anxiety
Increase patient compliance with treatment plans
Build better healthcare provider-patient rapport
Make patients feel more like individuals
Improve patient perception of care
Improve Hospital Consumer Assessment of Providers and Systems (HCAHPS) scores
Reduce burnout in healthcare providers
Improve overall clinical and medical outcomes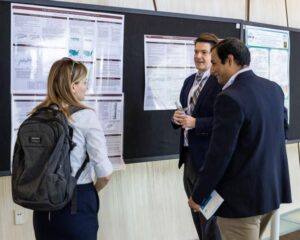 PROBLEM
Healthcare students commonly feel uncomfortable and unprepared for their first interactions communicating with real-life patients prior to, and during, their first hospital-based clinical rotations.
PURPOSE
The purpose of this study was to determine the efficacy of using a gamulation to improve healthcare student comfortability with communication skills prior to their first hospital-based clinical rotations.
METHODOLOGY
The research team collaborated with an external white-label private software as a service (SaaS) company (RedmerU.com) to design, build, host and support a cloud-based gamulation utilizing proprietary Breakthrough Learning Analytics Development Engine (B.L.A.D.E.) technology. This gamulation incorporated the AIDET® model of communication framework (Studer Group) due to its evidence-based success and use in local hospital markets. A 15 question, 10-point Likert scale survey was developed to assess 10 different aspects of comfort with patient communication, 1 aspect with familiarity of the AIDET model of communication framework, and 4 questions regarding perceived effectiveness of gamulations as an alternative method of teaching patient communication. A pre-test and post-test design method was utilized to compare the summed longitudinal data from 2 consecutive year cohorts of undergraduate Respiratory Care students (n=78). Wilcoxon Signed Rank Tests with Cohen's D Effect Sizes were used for statistical analyses to explore pre-and-post gamulation completion differences for all aspects.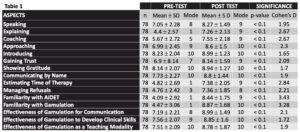 RESULTS
There was an 88% overall response rate. Statistical significance was found for every aspect pre-and-post completion. Results are presented in Table 1 below.
DISCUSSION POINTS
Exploratory pilot study
Results show astounding promise and potential
Effective alternative experiential teaching/learning method
Better preparation of healthcare students and providers
Improved patient care interactions
Where do we go from here?
Adaptability–medical procedures
Transferability, advancement, collaboration between universities, programs, etc.
Future obligations–next generation(s)of healthcare providers?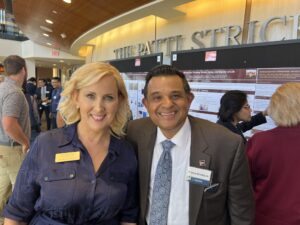 CONCLUSIONS
Results of this study suggest high efficacy of gamulation use for improving healthcare student comfortability with communication skills. Gamification and gamulations may provide a viable, immersive, simulated and encouraging alternative teaching and learning methodology for the healthcare professions. Further research is warranted.